Ideal for Machine Tools and Semiconductor Manufacturing Equipment
No Transformers Required for Control Circuits
---
Built-in IEC 61558-2-16 Compliant Transformer
An IEC 61558-2-16 compliant transformer is built into the Power Supply to eliminate the need for a transformer with compound windings for control circuits for which IEC 60204-1 Machinery Directive is specified. This helps reduce cost and space requirements.
Easy Safety Standard Certification
---
All Normal Stock Models Are UL 508 Listed *
1. Less work is required to prepare data and materials for UL application.
2. Connection is possible to devices or equipment outside the control panel.
* Some optional models are UL recognized. (Excluding models with connectors.)

Shop for S8FS-G Power Supply
Equipment Downsizing
---
Slim Body of 300-/600-W models
Stable Operation in a Wide Range of Environments
---
Resistance to Environments for Global Application
Stable operation in severe installation environments, such as those with high ambient temperatures and humidity, or large vibration or those with unstable input voltages.
Prevention of Foreign Matter Ingress and Screw Drop Out
---
The front cover prevents entry of foreign matter from the front surface.
A removable mechanism that prevents terminal block screws from dropping out is a standard feature.
You can prevent foreign matter ingress and screw drop out that can result in product failure and accidents for worry-free installation and maintenance work.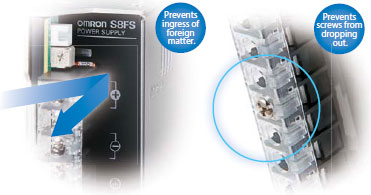 Stable, High Quality
---
75% of all the manufacturing processes have been mechanized.
We have also mechanized inspection and confirmation processes.
Shop for S8FS-G Power Supply