S8VK-S
Switch mode power supply
A perfect fit for small control panels.
Operation possible at ambient temperatures from –40 to 70°C
DC input supported (90 to 350 VDC)
Power boost function at 120% (60 W and 120 W)
Power boost function at 150% (240 W and 480 W)
Undervoltage alarm (240 W and 480 W)
Side-by-side mounting possible (up to 55°C)
Vibration resistance to 5G, and 300-VAC abnormal input voltage supported for 1 second.
PCB coating protects against dust, corrosive gas and humidity.
Certification for 3000m altitude
RoHS compliant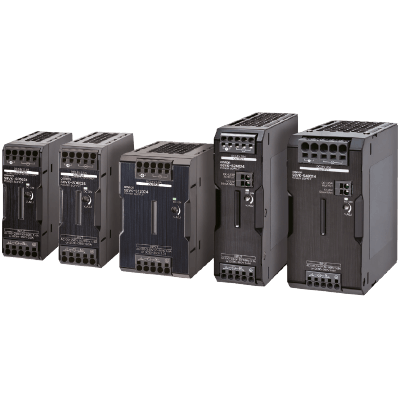 Uniform height reduces dead space and enables control panel downsizing
---
The switch mode power supply, noise filter, and DC electronic circuit protector, all compliant with the "Value Design for Panel" concept, are made to be uniform in height to reduce dead space and enable control panel downsizing.