Photoelectric Sensors detect photo-optical workpieces. OMRON provides many varieties of sensors, including diffuse-reflective, through-beam, retro-reflective, and distance-settable Sensors, as well as Sensors with either built-in or separate amplifiers.
With these Photoelectric Sensors, the Amplifier and Sensor Head are separated to enable downsizing and facilitate adjustment.
Ideal for Applications That Cannot Be Handled with Fiber Sensors or Photoelectric Sensors
High precision laser sensor with separate amplifier
The separate amplifier laser sensors feature a comprehensive range of sensing heads with variable spot and advanced CMOS sensing heads for high precision positioning and demanding applications.
High detection stability independent from color or surface structure
Lens attachments for line beam applications
Easy installation due to adjustable focus and smart tune functions
Sensor heads with up to 1.2 m sensing distance cover a wide range of applications
High speed network connectivity to EtherCat fieldbus
Shop E3NC Series
Shop E3NC Series
With these Photoelectric Sensors, the amplifier is built into the Sensor Head.
IO-Link Makes Sensor Level Information Visible and Solves the Three Major Issues at Manufacturing Sites! Standard Photoelectric Sensor.
Compact housing size
High-power LED for excellent performance-size ratio
Best value-performance ratio for standard applications.
Shop for E3Z Series
Shop for E3Z Series
High detection capabilities for stable detection of a wide range of transparent workpieces in the food and packaging industries, including glass bottles, PET bottles, films, and trays. You can increase equipment operating rates and reduce commissioning and maintenance work.
Double-slit optical design ensures reception of only parallel light to stabilize detection.
P-opaquing function ensures attenuation of 70% even on films with little difference in light levels.
Narrow beam enables incident light with gaps as narrow as 3mm.
Visible spot in the reflector lets you easily adjust the optical axis.
Large indicators are easy to see from any angle.
IP69K water resistance withstands harsh environments.
Resistance to detergents certified by Ecolab.
Understand more about E3S-DB Photoelectric Sensor
Shop for E3S-DB Series
Shop for E3S-DB Series
The Improved E3T Series with Easier, Smoother Mounting and Installation
Small size with precision pinpoint LED where space is crucial
High EMC and ambient light immunity
Side view model dims: 18.5 H x 7 W x 9.5 D mm
Flat model dimensions: 19 H x 12 W x 3.5 D mm
High visibility output indicators
One-chip photo IC ensures high reliability
Rated IP67, withstands 1200 psi water washdown
For smaller size, see the E32 Square Shape.
Understand more about E3T Photoelectric Sensor
Shop for E3T Series
Shop for E3T Series
These Photoelectric Sensors help achieve a total cost reduction because a wide AC or DC power supply range can be used.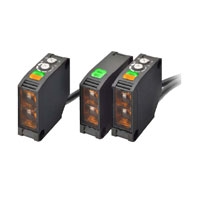 All voltage photoelectric sensor with long sensing distance
The new generation of square-sized E3JK family provides significantly enhanced sensing performance and ease of operation. The family features 24 to 240 VAC power models as well as models with PNP/NPN transistor output.
High power and visible red LED for all models enabling easy alignment and long sensing distance
Bright indicator LEDs that are visible even at a large distance
Best price-value ratio
Available models with red LED and infrared LED
Understand more about E3JK Photoelectric Sensor
Shop for E3JK Series
Shop for E3JK Series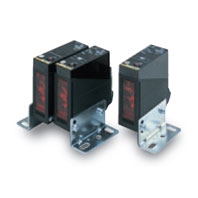 Multi-voltage photoelectric sensor in plastic housing with timer function
The square sized E3JM family provides 12 to 240 VDC and 24 to 240 VAC power supply voltage, an enhanced sensing distance and a timer function.
12 to 240 VDC and 24 to 240 VAC supply voltage
Relay or solid state relay output
Timer function
Shop for E3JM
Shop for E3JM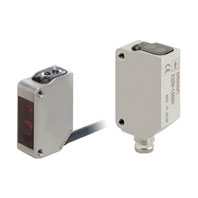 Compact housing size and high power LED for excellent performance-size ratio in a rugged, detergent-resistant stainless steel housing for demanding environments.
(World's Strongest)
Withstands Detergent and Disinfectant Spray
(World's First)
Superior Protective Structure
(Industry's Best)
Shape and Markings Designed for Greater Hygiene
Shop for E3ZM Series
Shop for E3ZM Series